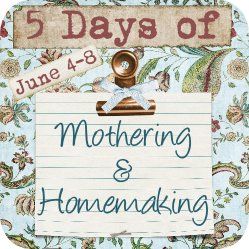 A plastic ambulance and a mountain of laundry lay at the foot of my bed. I've just stepped out of the shower to a chorus of fighting and "he hit me's." Before I can make a plan of attack, the door bell rings demanding clothes and a smile. No, this isn't a bad day. This is a normal day.
Hello my name is Kim and I do this homemaking thing alone with 4 littles…Leah (8), Rachel (7), Nathan (4), and Luke (22 months). I've been known to wear peanut butter as a hair accessory and more often than not, I leave the house with less than the necessary number of shoes.
While, few women chose to brave this mom thing alone, many find themselves in knee-deep. Maybe you can relate. Perhaps not because you are a single mom, maybe your husband works out of town or overnight. Or maybe your husband lives in the home, but does not actively invest in the family. Whatever your lot, you are not alone.
This is the place that God has me. A place that I've been for two and a half years. It's time for us peanut-butter wearing supermoms to band together and share our best survival tips. Although, I still sleep in a bed full of unfolded laundry, I've figured a few things out that make the days easier and the nights shorter. Next week, I will share these with you in a 5 day series on Husbandless Homemaking. I pray you will find encouragement and leave a few tips of your own. And even if you are blessed to have you husband home every night, I pray you will come along for the ride as you learn ways to pray for the single moms in your life.
And even if you don't find a useful tip or two, I am teaming up with 21 other bloggers to bring you encouragement for all kinds of areas of homemaking. (For you non math majors out there…that's 105 blog posts full of helpful information on mothering and homemaking!) I can hardly wait until Monday!
Other posts in this series… Day 1 
conquering the piles.
Day 2 
what's for dinner
  Day 3 
road trips with kids
Day 4 
discipline for the hurting child
Day 5
10 ways to make memories
A teaser of what you can expect next week…
Christy
 at 
One Fun Mom
5 Days of Fun Summer Planning (with printables)
Jodi 
at 
Granola Mom 4 God
5 Days of Using the Vitamix
Lauren 
at 
Serving From Home
5 Days to a Healthier Pregnancy
Anne 
at 
Quick & Easy, Cheap & Healthy
5 Days with Whole Wheat Flour
Sarah 
at 
Sidetracked Sarah
5 Days of Summer Activities with Children
 Amanda 
at 
The Pelsers
5 Days of Using Technology to Manage Your Home
Jeri Lynn 
at 
Alabaster Box
5 Days of Incorporating Inspiration into Your Routine
Trillia 
at 
Woman of God Magazine
Kasey 
at 
These Five of Mine Plus Two
5 Days of Getting Organized
Leigh Ann 
at 
Intentional by Grace
5 Days of 20 Minute Meals
Chelsey 
at 
Joy Reflected
5 Days of Essential Oils for Mama's, Babies and Children
Eileen 
at 
Edward's Granddaughter
5 Days to Better Communication
Kelli 
at 
Lady of the Barn
5 Days of Using Your Grain Mill
Kelli 
at 
Adventurez in Child Rearing
5 Days of Exploring God's Creation
Christin 
at 
Joyful Mothering
5 Days of How to Clean House (and involve your children)
Mary 
at 
The Encouraging Home
5 Days of Using Essential Oils
Honey 
at 
Sunflower Schoolhouse
5 Days of Organizing Your Homeschool
Kim 
at 
Not Consumed
5 Days of Husbandless Homemaking
Nicole 
at 
Faith in the Small Things
5 Days of Virtue Training
Laurie 
at 
Our Abundant Blessings
5 Days of Children's Birthday Party Ideas
Stephanie 
at 
BowMania
5 Days of Blessing Your Husband
Linking up with Holy Spirit Led Homeschooling and Your Thriving Family

Last updated by Kim Sorgius at .
you might also like: