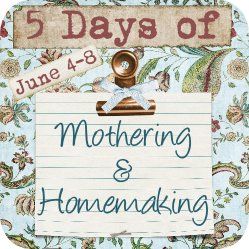 New here? This week I am featuring a series on Husbandless Homemaking. I'd love for you to join me. You can read a little more about the series here.
Whatever the reason of absence, when a parent is missing from the home, nothing is right in a child's heart. It is extremely tough on children when dad travels, and even worse when dad no longer lives in the home. I am certainly not an expert and I could never completely cover this topic in a single blog post, but today I do hope to offer some helpful tips for disciplining a hurting child.
Deal with the feelings
Psychologists agree that abandonment by a parent is worse than death. It creates a sense that the child is unloved and uncared for. Most of the time, the child assumes that he/she is the cause of the abandonment and more and more experts are agreeing that the security and self-confidence of these children never really recovers. Even though I saw my dad every other weekend, I can personally testify to the truth in that statement (read my story here).
I think that the most important thing that we can do to help our hurting children is to deal with the feelings that they are having and recognize that much of their behavior stems from these feelings. While, inappropriate hitting or hurting of people should never be tolerated, a little punching of the pillow is called for sometimes. As adults, we are going to have to teach them the difference.
When I first recognized that my children were in danger of not being able to express their feelings, I contacted a grief counselor and did quite a bit of research. All of which led to my Big feelings resource. I learned that the best thing that I could do for my kids was to teach them ways to identify their feelings and then learn healthy ways to express them. We used this poster to help us get through some very hard times. Over two years later, you will still find it hanging in the living room. Right where we sometimes need it.
Respect dad
I know exactly what your heart did when you read that suggestion. And don't think for a second that I don't know first hand how incredibly difficult this is, but I am called to respect him and so are my children. That being said, respect does not mean that I do whatever he tells me to do at the expense of our well-being. There is no clear Biblical step-by-step plan for how this looks in a given situation. That's why we have God. I am so thankful that I can ask him what to do and how I should be showing respect the father of my children. At the very least, I think we can all agree that unkind words are not acceptable. Even on days when I need to step into another room to keep my mouth shut…it's worth it.
If dad is still in your home, you might find Keeping Dad the Head of Your Home While He is Away to be a helpful article. The author, Amy Roberts, writes with both the experience of a dad who was deployed and one that travels all week.
Convict with scripture
When dealing with behavior in our home, I have found that the most effective method is to convict with scripture. Not condemn.  Just convict. When a behavior occurs more than once in my girls, I sit them down with the Bible and show them why I am asking them not to do it. I think it is so important to do this, because my words are but a vapor. HIS words are eternal, life-giving, and effective.
Wise Words for Moms is an excellent chart that you can keep on the fridge or nearby. It's simple, but contains nearly every behavioral situation and corresponding scripture to share with your child.
Another resource that I have seen and am dying to try is We Choose Virtues. This is a kit that includes 12 virtues with corresponding lessons and scriptures to work through with your children.
Consistency
Anyone who speaks about discipline will tell you that it's important to be consistent. It's easy to let this go when your home is experiencing turmoil. But you must be consistent anyway. If your rule is that no one sleeps in your bed, keep it.  It might take getting creative with your precious little ones who are scared or missing daddy, but consistency will always prove to be effective. Don't start new habits that you don't intend to keep and don't overlook bad behavior that you previously would have given a consequence for.
I am not saying that you shouldn't have grace. In fact, you will need a lot of grace. I just TRY very hard to be consistent and use logical consequences as much as possible and then let God fill in the rest.
Be real
I mess up a lot.  I cry and scream. I say stupid things. And sometimes my kids are victims of my insanity. In some ways this is good. We all mess up and they need to see someone model what to do when you mess up. Which means…they need for me to apologize and make things right. Now more than ever, they need to see what to do when those big feelings take over and cause me to sin.
They also need to see that brokenness hurts. They need to see that brokenness is NOT alright with God. And they need to see that everything is not just fine sometimes. Of course, this is not a license to pour out your soul and every despairing cry to your 7 year old. Just a call not to fall into the trap of hiding and keeping everything a secret. They might be children, but they are not clueless . They know a lot more about what is going on that we like to admit.
Take a time out
Remember the saying, "wait until your father gets home?" I am convinced that mothers say that because they KNOW that if they handled the situation in that moment that surely someone was going to get hurt. Whatever the reason, it is wise to take a time out when the heat is too much to bear. I rarely discipline well if I discipline in the moment. I need to take time to consider the consequence and calm down so that I do not make a promise that I don't intend to keep.
Don't fight unless you have to
This has been a hard one for me to let go. I am a rule follower and naturally, I think everyone else should be as well. But sometimes the situation is not black and white. As a single mom, I need to choose wisely what hill I want to die on. If I fight every single little desire that my kids have, I will quickly fall into a heap of defeat. Does it matter if my two year old wears shoes in the car?  No. So I don't put them on until we get there.
I am not advocating that you simply let your kids do what they want to. I'm just pointing out that sometimes, it really isn't that big of a deal. Like say, potty training. When all is said and done, will it matter if he is potty trained at 24 months or 34 months? No. He will still go to college in underwear. I promise!
Get help
Always ask for help. We all need strength for the battle. Ask friends and family to pray. Ask for advice with a particular situation. Find a good counselor. Find men from your church that would love to invest in your kids. These relationships are beautiful for everyone involved.
I hope you are encouraged to take charge of your home and not let things slide. I know very well how easy it is to stay in bed or tune out the screaming. I am reminded of the truth of the familiar saying…"this too will pass." It's only a season, super mom. He's got this whole thing in His hands. Let Him be your rock and your strength.
Do you struggle with one of these more than another? What helpful tips might you have? Got questions?
Other posts in this series…
Introduction
Day 1 
conquering the piles.
Day 2 
what's for dinner
  Day 3 
road trips with kids
Day 4 
discipline for the hurting child
Day 5 
10 ways to make memories
Be sure you visit the other bloggers for more Homemaking and Mothering ideas…

Linking with Denise in Bloom, Better Mom, Lowercase Letters, Modest Mom, Raising Arrows
Last updated by Kim Sorgius at .
you might also like: