My love for reading is clearly contagious. It seems as though we can not have enough books to satisfy in our home. The chapter book series has become a favorite. Reading a series is such a great way to connect ideas and peak further interests. Plus, it is easier to trust the content of subsequent books once we have read the first one. If I am going to be selective about what goes into their minds, this is a necessary time saver.
For today's TOP TEN, I am sharing my favorite chapter book series.
1. Little House on the Prairie and Little Britches
I doubt the Little House series needs much explanation, but if you happen to have forgotten about it…don't miss this opportunity to teach your children about what life was like in early America. The family values and references to God are a refreshing and welcome part of this series. Little Britches is a similar series, but perhaps with a more masculine spin. Both would make excellent family read-alouds for almost any age.
2. All-of-a-kind-Family
Written in the 1950′s this series is a rare find. Rich vocabulary and wholesome values are just a few of the reasons why this series is sought after. The family's charm and adventures will captivate your heart. Check your local library to see if you can get your hands on them.
3. Animal Ark and Pony Pals
Animal ark and Pony Pals are both wholesome and excellent books for the beginning chapter book reader. Animal Ark weaves animals facts with entertaining stories sure to please any animal-lover's heart. There are more than 26 volumes ranging from horses to puppies and everything in between. Pony Pals are very similar, but focus on horses. Both of these series are available at the local library and while they do not have Christian themes, they virtually avoid all moral issues whatsoever.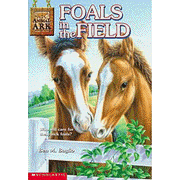 4.Imagination Station
Written by the folks from Adventures in Odyssey, Imagination Station promises young readers (ages 7-12) adventure and mystery. This series is much like the popular Magic Tree House series, minus the magic and wizardry. There are more than 9 volumes of excitement.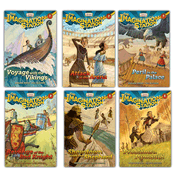 5. Moody family series
If you are looking for a series that makes life beautiful, the Moody Family series will not disappoint. So far, Sarah Maxwell has written 7 books detailing the pleasures of the good life…following a simple homeschooling family as they help others, learn to love God and enjoy time as a family. This series makes a great family read aloud or a trust-worthy independent selection!
6. Cul-de-Sac Kids
Perfect for your new chapter book reader, the Cul-de-Sac kids enchant with tales of friendship,teamwork and faith as they explore the neighborhood. These books are short, making them perfect for building confidence.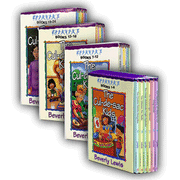 7. Rod and Staff Chapter Books
I fell in love with Rod and Staff books at my very first homeschool convention. With books on every level, they are perfect for read-alouds or independent reading. The books share stories of simple families living lives that honor Christ. Farming, homemaking, and missions are just a few of the topics covered. My 8 year old can not get enough of these books, so I had to include them even though they aren't exactly a series.
8 My America and Dear America
Both historical fiction series, My America and Dear America are journals from the point of view of a young child in early America. My America is written for ages 6-12 and Dear America is for ages 9-12. I would caution you to consider reading Dear America aloud at first, to be sure that you can discus any graphic content.
9. Sisters in Time
Another great historical fiction series told from a child's point of view. Sisters in Time has a clearly Christian perspective as the characters rely on God for protection, grace, and provision during some of history's most difficult times. Perfect for family read-alouds.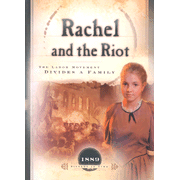 10. Christian Heroes Then and Now
Last, but possibly my favorite is Christian Heroes Then and Now. With over 25 volumes, there is a story for every time period and region. From your living room, you can relive the stories of the heroes of our faith as they share the gospel with the world.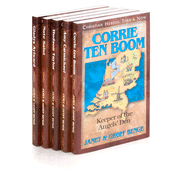 I hope you have enjoyed this post. Each Tuesday, I am teaming up with a wonderful group of homeschool bloggers to bring you 10 weeks of Top Ten Homeschooling Lists. Be sure you stop by ihomeschool network where you will find a list of over 30 other bloggers participating in the series.
What are your top ten? Inquiring minds want to know. Share some of your favorites in the comments or write your own blog post and link up at Angie's by clicking on the link below…
Disclaimer…many of the links in the post are affiliate links.  That means that if you decide to purchase any of these great books by clicking on my links, it will support my family. Thanks!
Also linked up with Titus 2sday, Growing Home, Hip Homeschool Hop, Far Above Rubies, Raising Homemakers, Deep Roots, Women Living Well, We are that Family, Slowly Natural, Holy-Spirit Led Homeschooling, Raising Arrows, The Modest Mom and A Mother's Heritage.
Last updated by Kim Sorgius at .
you might also like: