Welcome, friend. This is Day 1 of a 5 part series on organizing Classical Conversations. Click below to see the other posts and read more about what we have planned!
The official "school" season is upon us and many homeschool groups will begin meeting in just a few short weeks. As we prepare to begin Cycle 1 of Classical Conversations this year, I want to share with you how I set up my home to continue the learning from Foundations class each week.
Since Classical Conversations is the core of our homeschool day, I use the trifold board in a "breakfast board" set-up. We have this board set-up in our kitchen (which is our schoolroom) everyday. The children can see the week's memory work at a glance which is a huge step toward helping them memorize the information. They can also use the board to help them fill out notebook pages and other activities that we do to enhance the memory work. I love that the board can be taken into any room or it can be taken with us to CC each week and used in the classroom (I am a tutor, so it's perfect!)
In class, I plan to cover each subject with some cute Scotch reusable mounting shapes and a blank piece of paper. Then, in class, we will uncover one subject at a time as we discover the week's memory work
The board is simple to make. I adapted the idea from Half-a-Hundred Acre Wood where you will find great instructions for how to make the pockets. I used a roll of double sided tape to adhere the pockets and adjusted the arrangement of the pockets to fit my needs.The printables are listed here on this site, as well.
Here is what the board looks like before the weekly sheets go in. Note: there is an empty pocket for the timeline cards because you should always include the last card of the week before. (Since this is week 1, there is no card in the pocket right now.)
While I love sharing my ideas with you, I encourage you to keep in mind that this is one of MANY great ways to work with the materials and Classical Conversations doesn't necessarily advocate one way over another. You are the teacher in your home and your children will be most blessed by doing what works for your family!
Be sure to subscribe via email, so you don't forget to come back for tomorrow's post on our daily schedule.
Before you get too far in your organizing, check out 
Scholaric
Planner! I love that I can print out a checklist for my children daily or even weekly. They can see at a glance what still needs to be done and I can enter it into the computer whenever it's convenient for me.
This series is written in conjunction with 22 other bloggers to bring you 5 days of Organizing. Click below to check out the other great topics…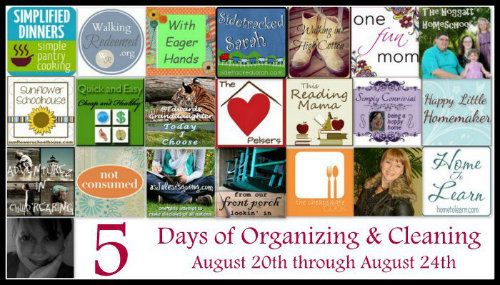 Last updated by Kim Sorgius at .
you might also like: