Welcome, friend. This is Day 5 of a 5 part series on organizing Classical Conversations. Click below to read the other posts: At Home Set-up, The Memory Work , Materials and A Classical Notebook.
Whether you are a CC tutor or a teacher in your own homeschool, there are many fun ways to organize the teaching process. Before we begin, I want to share my favorite bag. Since CC groups meet in a borrowed space, we often have to cart materials back and forth between home and class. Last year, I found this fabulous bag at ikea. It was $15 and well worth every penny. I've used it for homeschool conventions and so many other events, too!
Weekly files
The system is simple: each week has a folder. The folder is labeled with the week number and the cycle number. As the year progresses, I store worksheets and resource information for each week, both for my homeschool and for my CC class. After the week is over, I collect the materials and store them for next year. (You could easily punch holes and make this a binder with dividers, if desired.)
The best thing about this method is that when I find a resource for week 12, I can file it and I will know where it is once week 12 comes along. I try to print off worksheets and resources the day I stumble upon them so that I don't have to remember where I saw that great idea 5 weeks ago.
The planning
I used several different types of planning sheets last year. Some only included one week's worth of plans at a time. Some a few. Some 6 weeks. There are several available on CC Connected to fit your needs. There are even forms for planning at home.
This year, I am using a planning sheet that my sweet friend, Anja, made. The best part is that she has agreed to share it with you all for FREE! (Click the image below for a downloadable version.)
Weekly Review Sheets
I like to give review sheets to my students both at home and as a tutor. These sheets provide an opportunity for the student to manage his/her own learning by digging a little deeper into the memory work and recording his/her practice. And guess what? I'm sharing these as FREE PRINTABLES, too! (Click on the picture below for a downloadable version.)
Be sure to stop by my Pinterest board for Classical Conversations Tutors for additional ideas!
I hope that you have enjoyed the series this week. Happy back-to-school and may God bless your year in ways beyond what we can think or imagine!
A great big thank you to Scholaric for sponsoring this series. I hope that you have signed up for a 2 week trial, so you can find out why I love this digital planner so much!
This series is written in conjunction with 22 other bloggers to bring you 5 days of Organizing. Click below to check out the other great topics…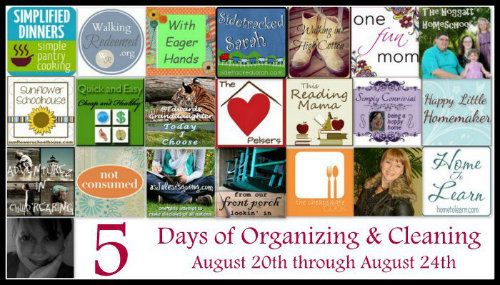 linking with Holy Spirit Led Homeschooling Becoming a Woman of God, and Your Thriving Family
Last updated by Kim Sorgius at .
you might also like: