Welcome, friend. This is Day 2 of a 5 part series on organizing Classical Conversations. Click below to see the other posts and read more about what we have planned!
The first year that we did Classical Conversations (CC), I floundered around with methods for helping my children with the memory work. Fortunately, my oldest was just in kindergarten and we had plenty of time to work things out! Last year (her second grade year), I found myself wanting a better organization system for how I would approach the subjects at home.
For Weekly Review:
I saw this idea on pinterest and I knew that I HAD to make one for our CC memory work. (I think the creator made one for chores.) It's simple and inexpensive to make. Students simply review the subject and then move the clip to the "done" side. I love that we can use this over and over again without needing paper. I also love that the movement of the clips from one side to another is an engaging and tangible way to encourage the learners!
Materials:
Wooden door hanger (you can get these in the craft store)
clothespins
sticker letters
gems or sequins
paint
markers
Directions:
I simply bought the wooden door hanger size and shape that I wanted, painted it with two coats on each side, and then wrote the subjects on the clothespins. I put my kids initials on the bottom because of the size of the stickers that I had available, but you could write your child's name if your letters were small enough. I used hot glue to adhere the sequins. I simply chose some that we had laying around. You could also use stickers.
Memory Master Review:
Beyond the weekly memory work, there are two things that I needed to consider: one is the memorization of larger chunks of information, the other is any supplementing that we might choose to do. I found that while I don't expand much, I couldn't do it all in one day. I also found that as the year went on and the list got larger, it was a lot of work to ask the children to review every subject from the beginning every day. So, I divided the week into subjects. On the assigned day, students review the subject in it's entirety. On that day, we also supplement with literature or complete any notebook pages that I have planned. (More about notebooking later this week)
Our Schedule:
Monday- Timeline
Tuesday- English and Math
Wednesday- History
Thursday- Geography and Latin
Friday- Science
There is no right or wrong way to schedule these out. I paired together subjects that required less writing or were often easier to review. I picked heavier subjects for days when we were not out of the house. By all means, it won't work if it doesn't work for your family!
Your turn…I'd love to hear how you organize your students for mastery of their memory work.  Please share!
Organizing Classical Conversations is sponsored by Scholaric Planner. Did you know that you can get a free trial? Go sign up today!
This series is written in conjunction with 22 other bloggers to bring you 5 days of Organizing. Click below to check out the other great topics…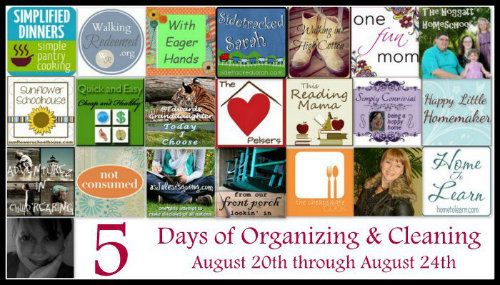 Linking with Growing Home, Far Above Rubies, Trivium Tuesdays We are THAT family, and Hip Homeschool Hop