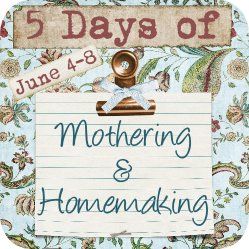 New here? This week I am featuring a series on Husbandless Homemaking. I'd love for you to join me. You can read a little more about the series here.
Today we are going to attempt to conquer the piles that consume us and leave us feeling defeated. You know… piles of dishes, laundry, bills, shoes, and toys. The truth must be proclaimed over the mess.  WE WILL NOT BE CONSUMED.  There is victory to be had here. Sweet friend, let us not forget that He has overcome and it is in His strength that we can accomplish this task. Even on days when you do not have the strength to go on. So, let's get started on those piles.
Plan it…
Every successful task begins with a good plan. Don't roll your eyes.  I know you get tired of hearing this, but I promise it will save your life. A schedule will GIVE you more time. And as a bonus-children thrive on schedules, even if you don't. If they know what to expect, they are more likely to help carry that out. So get out a piece of paper and start making a schedule today. Post it on the wall in your kitchen. Deadlines and time frames are motivating.  Even on a small scale.
Our schedule looks a little like this…
6:00-8:00 Mom get's up, quiet time, planning for the day, blogging
8:00-9:00 Breakfast, morning chores (yes, my kids sleep or stay in their rooms until 8am)
9:00-12:00 School, mom assists, while also tending to the baby and kitchen duties
12:00-2:00 Lunch, errands, free play
2:00-4:00 Nap time, quiet time, mom's blogging or homeschool planning time
4:00-5:00 Free play, dinner prep
5:30-6:30 Dinner, evening chores
6:30-7:30 Family time (I try to play games, read books, do projects, take walks, etc.)
7:30-8:30 Pleasure reading in rooms…sometimes they read independently, sometimes together
8:30-10:30 Lights out, mom blogs or does other chores
Beyond this simple skeleton schedule, it's important to note that I also plan out which chores are done at certain times/days and what specific activities will be done for school. I keep those schedules separate.
Once you have created a schedule, you can not miss the crucial step of surrendering it to God. Each morning, I meet Him and ask what He wants for my day. There are times when the schedule is changed and I have to be willing to roll with it.
Teach it…
I am so thankful that I found it important to teach my children to help with chores when they were very young. As early as 3, they can help. At first, it was annoying for them to help, but the training has paid off for me. When I became a single mom, they stepped up and took over in many ways. At first, I was pregnant and very sick, so I was unable to help them. If I had not taught them, I'm not sure how we would have survived that very difficult season.
In my home, we are all equally responsible for taking care of our things. Each child is responsible for his/her own clothes, toys, shoes, etc. I use logical consequences to ensure that these things get picked up. Believe me, they will only have to work off the $3 cleaning fee that I charge for missed items a few times before they magically learn to pick it up.
Daily chores include…
Nathan (4) is responsible for putting away the silverware, clearing plates from the dinner table, dumping the bathroom trash, and putting away his laundry.
Rachel (7) is responsible for wiping the dinner table and counters, sweeping/mopping the kitchen floor, scrubbing toilets, folding ALL the laundry and putting away her own.
Leah (8) is responsible for unloading and loading the dish washer, scrubbing bathroom sinks, vacuuming the carpet, sorting and loading laundry to be washed, and putting away her own.
Chunk it…
Sometimes it is nearly impossible to find a chunk of time for household chores. Instead of looking for an entire afternoon to clean off that countertop, do it for 5 minutes. You'd be amazed the progress you would make if you just used that extra 5 minutes before heading out the door to chisel away at a pile.
Leave it…
No great list on managing your home without the help of a husband would be complete without the thought of simply leaving it. There is always going to be something in the pile. The sooner we learn to let go of that, the more quickly we will be at peace. The police will not come and repossess your children if you leave dirty dishes in the sink. Trust me. Sometimes you just have to leave it because a precious soul is waving a great book in the air beckoning you to settle in with her. Leave it.
Save it…
Money that is. The easiest way to lighten your cleaning load is to buy less stuff. The less you have, the less you have to clean.
Organize it…
No one can help you with the piles if you don't have some level of organization. The kids will be lost. Friends and family will aimlessly wander looking for a way to help. If you can organize things, the job will be completed much more efficiently. Stick with the most important rule—–>everything has it's place. It doesn't need to be fancy or neatly labeled in file folders. It just needs a place that everyone knows it belongs.
If you organize well, it will make chores much easier for your young children.
For doing the dishes…
It is crucial that you organize your kitchen so that your children can reach the dishes. This cabinet is the main hub in our home. In it, we keep silverware, cups, plates, and bowls. Underneath the top drawer, is where I keep all of the plates. This way, when my daughter puts them away, she can reach. Also, they can easily set the table. A stool is also a kitchen must-have. Having a stool keeps them from jumping on the counters and helps them to safely put items away.
The above picture is the left drawer. In it, we keep the bowls and cups. Easy access means that the kids can not only unload the dishwasher, they can also get their own drinks for dinner and pour their own cereal for breakfast.
I don't know about you, but cups are a huge problem in our house. With 4 little mouths, I was finding that cups were everywhere. Each time they needed a drink, they would use a new cup because they simply couldn't remember where they put the last one. Naturally, this kind of drinking creates chaos in the dishwasher. You can never keep the cups clean. So, I set out to solve this problem with the single cup idea. I purchased these cups from Pottery Barn Kids. Each child has an image on their cup. They ONLY use their cup. I have two sets of cups. They know that they must use the cup all day or they won't have clean cups left. This method also simplifies my life. I no longer find myself asking- "who left their cup on the table?" (I don't work for Pottery Barn, this just happens to be where I got my cups a while back. You might also check Target. They have cute summer cups that might work for this.)
The above picture is our laundry organization system. It's just a simple 9 x 9 cube unit that you can purchase at Target or Lowe's.  This is the dresser in our family. The kids do not have a traditional dresser. Each child has a row of three fabric bins. One bin for pants, one for shirts, and one for pajamas, socks, and undies. When the items are in the bin, no one knows what they look like. For those of you who get bent out of shape over a mess (ahem…like me) you will love this method. Once the bin is closed, I have no clue how things are arranged in there. Since the space is small, chaos is limited. My children are responsible for folding and putting their own clothes away. Including my 4 year old. With a traditional dresser, I was going batty trying to help them organize it. With the cubes, everyone is happy.
One thing to note about laundry…the ideal way to do laundry for a large family is a family closet. I've done this before in our old house and it was wonderful. (Presently the baby's room is in the closet, so it's not feasible…but soon I hope!) The benefit of the family closet is that there is only one place to go to put away clothes. For more ideas and resources on setting up a family closet, visit Keeper of the Home.
List it…
Inevitably there are those household duties that simply can not be done. Like a lightbulb that is simply too high to change or a piece of dry wall that needs to be replaced. Remember to keep a running list of theses things so when someone asks how they can help, you will be ready with an answer. If you are a single mom, your church will have resources for helping you get some of these types of duties accomplished. Be sure you ask. They want you to.
I close with this reminder…do not fall into the trap of believing you are someone you are not.  Your home is maintained alone. Let your home be a place filled with love and perhaps a few small piles. Never forget that those precious hearts are far more important than a perfectly mopped kitchen. And hey, peanut-butter-in-your-hair-mom, you are so very loved!
Your turn~ Share your favorite tips for managing the piles in your home. I'm sure you guys have some great ideas out there.
Other posts in this series…
Introduction
Day 1 
conquering the piles.
Day 2 
what's for dinner
  Day 3 
road trips with kids
Day 4 
discipline for the hurting child
Day 5 
10 ways to make memories
Be sure you visit the other bloggers for more Homemaking and Mothering ideas…


Linking up with Graceful, Raising Arrows, Modest Mom, Lowercase Letters, and the Better Mom