When I was growing up, the word s-e-x was completely taboo. Whenever the topic of boys was breeched, mom's eyes would get as big as golf balls and she would choke out this wise advice: "Don't kiss until you're 30."
It's pretty funny looking back and I truly admire her heart. She wanted me to wait to date and definitely wanted to avoid any chance of PDA (public display of affection) as she so affectionately termed it. She also wanted me to avoid getting pregnant and contracting STDs. All noble things. In fact, they are things most parents think about when this topic comes up. Also on the list are thoughts like these…
My kids are too young to know about this.
My kids have never asked questions, so they clearly aren't interested.
It's best for kids to find out naturally.
If we talk about this, they will lose their innocence.
Ok maybe they need to know, but I don't know what to say.
Again, all well-meaning things to say and believe, right? I mean who doesn't want to protect the innocence of their children or keep them from any form of harm? The trouble is, when parents avoid talking about sex with their kids it leads to a host of issues, many of which bear life-long consequences. In fact, our avoidance actually works against the very thing we are trying to accomplish.
Our avoidance leaves kids with no other choice but to get their information elsewhere.
Unless you literally keep your child in a bubble, you can't avoid this information. Yes, I know you keep your kids protected and watch every possible influence over their minds. Please hear me—> IT'S NOT ENOUGH. You can't possibly keep them from reading street signs, seeing an ad, or hearing something from a peer. Even if you homeschool. Even if your church is ultra conservative. They will take in information without you knowing it.
Instead of burying our heads in the sand, as Christian parents we need to be embracing the fact that our children are influenced by outside factors. This is actually a beautiful thing because it affords us the opportunity to discuss topics that otherwise wouldn't come up. And that includes sex. As parents we have the divine appointment to teach our kids these things (Deut. 6) and we should be doing it naturally, often, and completely.
If we don't, the boy down the street will teach them. And trust me, I would much rather my kids hear God's design for sex than some warped and perverted version the world is selling them. Wouldn't you?
Our avoidance leaves kids with the wrong perspective on the most precious of gifts that God has given to married couples.
Something that's not talked about openly will almost always be viewed by children as very bad. As they get older, this isn't always corrected, which leads to one of two possibilities. Some go into their marriage still holding a very negative view of sex and this view inhibits their ability to enjoy the most precious gift God gives to married couples.
Of course, the opposite response is rebellion. Kids see this secret "bad" thing and it becomes irresistible. So they learn to find ways to hear and think about it. Then perhaps move to finding ways to look at it and eventually participate themselves.
We can counteract both extremes by teaching our kids that God actually has a beautiful design for sex in their marriage. If they understand His clear purpose for it, they have a much higher likelihood of choosing the beauty of it over the allure of the temporary pleasure. Without understanding the purpose, what chance do they really have?
Our avoidance leaves kids with a much higher likelihood of assault or sexual abuse in some form.
I know it's absolutely unthinkable that our children might one day fall victim to sexual abuse. But the stats don't lie. As many as 1 out of every 5 children are victims of abuse. Think about that. It's a HUGE number. It's heinous, deplorable, and absolutely heartbreaking.
Don't we want to do everything possible to prevent this? Of course we do. So we fingerprint church workers, never leave our kids in possible danger zones, write off sleepovers, and anything else we can think of to keep our kids safe. But we are missing one of the most important parts. We MUST teach our kids what to look for. They need to understand what this assault looks like.
If they don't know what inappropriate touching is, how can they even say no? Now, I can hear you saying that your kids know better and would be able to say no. If that's you, please read my story. I share this not to point out failures on the part of my parents, myself, or anyone else. I share it because if there is just one child in the world who can be spared from victimization by being granted the power of knowledge, I'm willing to be known.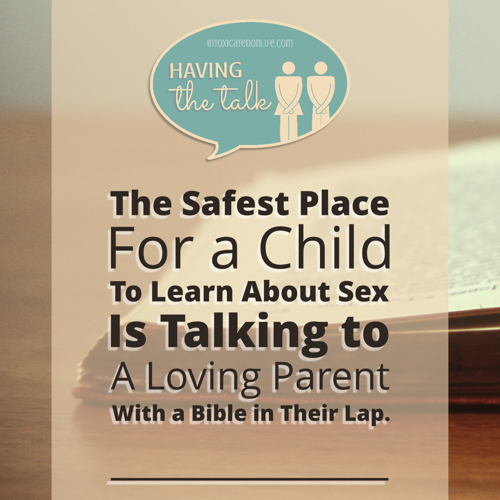 Friend, I know this is a heavy topic. It's one we want to avoid. We'd so much rather look the other way and choke out those words, "Don't kiss until you're 30." When we do, we are letting fear control our parenting. Oh, that we may have a much bigger faith than that!
I pray this post has motivated and empowered you to sit down and talk with your LITTLE ones about this. But I wouldn't dare leave you with just that. My friend Luke Gilkerson and his wife Trisha have put together several resources to help you. Not only are they fun, the Gilkersons bring to the table a deep and authentic faith you can trust, coupled with years of training and experience.
Here's a little taste…
See what I mean? You can totally do this! I am praying for you and cheering you on. Plus, Trisha and Luke have 3 more FREE videos to help you. Go sign up for them today!