Homeschool Science Curriculum: A Complete Plan From Preschool to Graduation
Nerd alert: I LOVE science. (Which is why talking about homeschool science curriculum makes me super excited!)
Yep. It's true. In high school, I couldn't put down the Biology textbook. I was even president of the Biology honors society. Oh, and for fun, we spent our time blazing a trail on the back of the school property and growing various habitats.
I already feel better just getting that confession off my chest. Haha. So how about you? Do you love science? Or are you one of those parents who would rather have a root canal?
Perhaps you enjoy science, but haven't really found a way to engage your kids in the learning of it. Sometimes we can get so caught up in memorizing seemingly random names, facts, and compounds that we miss the beauty of science.
Yep. I said science is beautiful. In fact, it ought to be every Christian's favorite subject, because in the learning of science we can truly enjoy and find awe in all that God has created for us.
But I totally get your hesitation. Teaching science sometimes brings with it feelings of inadequacy, fear of anti-Christian agendas, and flashbacks of 100s of flashcards from our high school years. Stick with me for a few minutes and let me help you see a homeschool science curriculum plan that won't be quite so daunting.
A Complete Plan From Preschool to Graduation
Homeschool Science Curriculum for Elementary
When the kids are little, reading should be your focus, and science curriculum should be super laid back. In fact, for years our "science" class was digging into a pile of amazing books while cuddled on the couch. Each week I'd carefully select nonfiction books sharing all about fish, elephants, or really, anything interesting. And the kids loved it!
This helps you focus on what is most important at this stage: growing strong readers. When Mom holds her little ones in her lap and reads aloud, kids hear beautiful language, learn the organization and structure of language, and eventually begin to desire to read those words on their own.
Some of our favorite homeschool science books have been …
We've also really enjoyed homeschool science videos. Kids gravitate toward the screen, why not use it for good stuff, like learning? We have so many great ones like these …
We also have a subscription to Pure Flix where we can watch hundreds of educational titles.
Homeschool Science Notebook
We keep a notebook where we will note some of the things we have learned from our reading and exploring (think composition notebook with blank pages). This is our science journal. Don't get too overzealous about this. It can be a killjoy. Just allow your kids to draw or write something that interests them.
Sometimes I have them narrate facts to me and other times we don't. Let it be natural and fun!
I know this method is a little non-traditional, but remember, there is a reason we didn't go with the traditional school option anyway, right?
If your kiddos master reading and math and you'd like to add in a little more, here are a few favorites. (Note that I really don't think you have to. In fact, you could spend all of elementary school cuddled on the couch and be totally fine in upper-level science classes.)
We typically add in a more formal homeschool science curriculum in the 4th or 5th grade.
We LOVE Apologia science curriculum. It's hands-on, provides tons of notebooking experiences, and is just plain fun. Our favorites have been Flying Creatures and Swimming Creatures, but they are all great.
One of the reasons I opt for Apologia is I absolutely KNOW I can trust the content being taught to my children. Not only is evolution taught as an incorrect theory, but students are also given tools for supporting and proving the fact that God created the earth. I love this point of view!
We also love Master Books science. It's Charlotte Mason-inspired, featuring living books in many cases. I love that it's lighter in content but gives kids plenty of opportunities to dig deeper.
Homeschool Science Curriculum for Middle School
As your kids enter into middle school, it's time to get a little more structured with science curriculum. But remember, science isn't synonymous with boring. One suggestion I always make for middle school is to enjoy pursuing interests. As your child enters high school, his/her options may become more limited depending on the track they choose. Middle school is a great time to prepare for that by enjoying some sciences you may not get to later.
For example, consider studying astronomy. It's a fascinating subject that usually doesn't fall on the high school transcript. Kids LOVE it, and the study of it builds scientific skills and knowledge without seeming so, well, "scientific." My friend Luke Gilkerson has a course that we love called Experience Astronomy.
In the course, Mr. Gilkerson teaches the kids on video each week, assigns homework (think star-gazing), and even gives quizzes. Each one of my kids has been excited about middle school so they can enjoy this course! Oh, and did I mention you get ALL of this from a strong Christian perspective? It's a win-win for sure.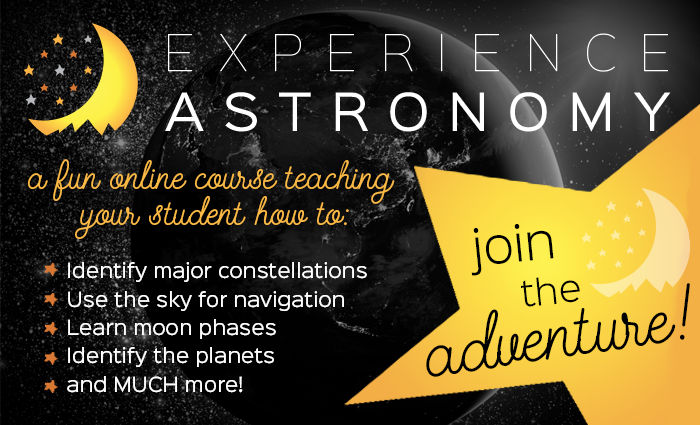 Homeschool Science Curriculum for High School
Once you get to high school, you'll need to make sure you know the requirements of your state. You can find these on the HSLDA website. Although each state varies, most will look a little like this:
Three credits in the following: Biology, Chemistry, Physics.
Now is not the time to lose your creativity, though. You still have options. First, you might consider taking a course at a local co-op so you can take advantage of the lab element. Unless, of course, you like dissecting things in your living room. Haha.
Seriously, a co-op is a great option, but not everyone has that opportunity. Other options include dual enrollment at a local community college and online courses.
My friend Trisha and Luke have a fabulous online biology course. Students watch lectures, complete assignments, and even take quizzes. It's a great way to get excellent teaching, independent curriculum, and a strong Biblical worldview all in one!
Apologia also offers online classes, and, of course, you can buy the books and the teaching CDs too.
Last but not least, we are trying a new curriculum this year called Biology 101. It's a little on the light side, but for this particular child, it's a great fit.
Remember to consider first your child's academic needs and not to squash them with curriculum that will frustrate their efforts. Particularly if reading is a struggle, pull back on the textbook format and allow them to explore other options.
Homeschool Science Tips, Tricks, & Curriculum Ideas
For more homeschool science ideas and practical tips, watch this video. We've created it to give you a short glimpse into some of our favorites.
More Christian Homeschool Curriculum
Need guidance on curriculum for other subjects? Read more about our Christian homeschool curriculum tips and favorites.
Free Homeschool Planning Boot Camp
Feeling overwhelmed and need some help? Remember, you are not alone! It's pretty easy to get lost in all the details, but our FREE Homeschool Planning Boot Camp will show you how to put a plan together in just 5 days!
Your turn–>
What is your favorite homeschool science curriculum? Leave a comment and tell me how you make it work in your homeschool!
Through practical tools & Bible-based resources, Kim Sorgius is dedicated to helping your family GROW in faith so you can be Not Consumed by life's struggles. Author of popular kid's devotional Bible studies and practical homeschooling tools, Kim has a master's degree in education and curriculum design coupled with over 2 decades of experience working with kids and teens. Above all, her most treasured job is mother and homeschool teacher of four amazing kiddos.