Teaching Handwriting in Homeschool Even When It's Hard
Just the mention of the word "handwriting" stirs all kinds of emotions for homeschoolers. We wonder if there really is any purpose in this highly technological society where abbreviations and shorthand have replaced any attempt at grammar. We look around at what is going on in classrooms around the country and often figure we ought not bother with this antiquated skill.
Or worse . . . we have a child who is struggling with it, so we just throw our hands up in defeat.
If either of these describes you, or if you simply find yourself with unanswered questions about teaching handwriting in your homeschool, I hope you'll read on. I want to share some thoughts with you that will help you navigate these tricky waters.
First, let's clear up some terms. Handwriting is the practice of forming letters properly in a legible format. The term "writing" is used to describe the art of combining words and sentences to convey a message to your reader. It's important not to mix these two up because they aren't the same thing. However, they do follow a very natural progression. We start first with handwriting and often replace that subject with "writing" as our kids get older.
How to Teach Homeschool Handwriting
Over the years, I have used a variety of products and systems to help my homeschool children learn handwriting. Below I will break out a step-by-step approach, but I want to remind you that every child is very different. The ages are loose guidelines. The most important thing to evaluate is your own child's skill set.
Ages 3 and 4
This is a great time to encourage free coloring and doodling. Allow them to explore colors, strokes, and paper. The more often they are allowed to do this, the more opportunity they will have to get comfortable with the crayons and other writing tools. PLEASE DO NOT buy those silly fat crayons. They are not better for little hands. Think about it . . . if a 6-month-old can pick up a Cheerio, your 3-year-old is able to handle a thin crayon or pencil. In fact, the fatter crayons can be difficult to maneuver.
I would not teach a formal homeschool handwriting curriculum at this age unless your child is asking for it. By asking, I literally mean, "Mommy, will you show me how to write this letter?" Otherwise, let them doodle! These crayons are my favorite for little hands, plus you can use them later to help teach other skills.
Ages 5 and 6
There comes a point around kindergarten when your child will want to write letters. If you have encouraged them to doodle their way through the preschool years, it is likely that they can already write their name and many other letters. Now is the time to teach a formal homeschool handwriting program. I have two favorite resources for this. First is a program called Handwriting Without Tears. It was developed by occupational therapists who were striving to help children struggling with handwriting.
I love it because it helps children truly understand the individual lines that make up each letter. We start with this magnetic board and wooden piece set. The kids learn to put together the wooden pieces that form each letter, and then they use the magnetic pen to write the letters. Not only is it a great foundation, but it's also super fun.
I generally follow up this practice with the accompanying book for kindergarten or even pre-K. After kids have used the magnetic board, the books come easy. We use the crayons mentioned above until about 1st grade.
Another great resource for this age is Write Through the Bible, Junior. The advantage of this product is it's designed to teach the letters of the alphabet right along with the handwriting part. And, of course, it's based on Scripture. Can't go wrong there!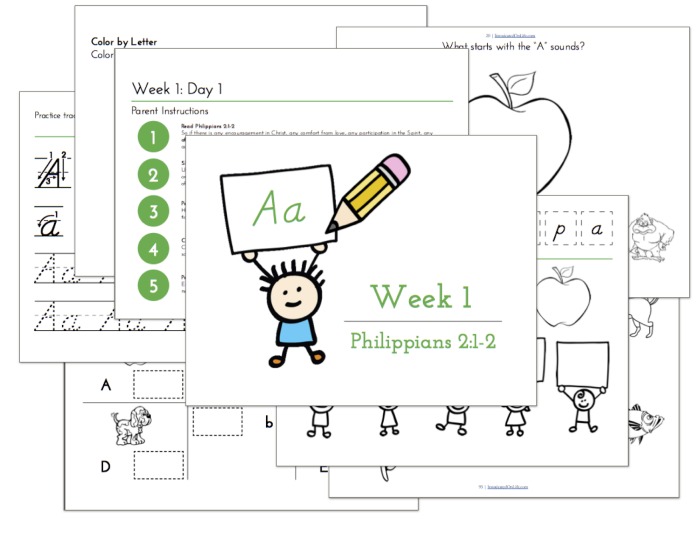 Ages 6–9
In handwriting, practice makes perfect. Generally at this age, parents have their children practice a lot. You can continue buying books from Handwriting Without Tears or similar companies. Many parents choose instead to use a wide variety of "copywork" resources.
Copywork is simply when a child copies written text onto his own paper. Copywork is an essential skill that has pretty much been phased out of the public school experience. However, it provides crucial tracking skills, spelling, and language practice that aids in the development of WRITERS. Not handwriters, but actual writers . . . those people who can successfully craft a 5-paragraph essay without a tirade. How? Copying excellent quality language cements the patterns into your brain. So, when you select copywork, select something excellent. In our home, we often use the Bible or lines from excellent pieces of literature. Write Through the Bible offers simple copywork books for this purpose.
As my children have gotten older, we have found it best to fit copywork in with other subjects. For example, our missionary series, To Every Nation, covers history and Bible but also has a copywork element to it. This is a great way to save time and keep your kids from feeling like school is daunting!
A Few Words About Cursive
What about cursive? You probably didn't notice, but I never told you to teach your child to print first. Hehe. Most people do teach their children to print first. However, many have advocated that cursive is easier to teach first as children are naturals at circle strokes. Whatever you choose is fine. Do what you think is best. If you choose to do print first, you might wonder when cursive should be added. There is no right answer, of course, but most children have a natural desire to learn it around 3rd grade. Why not take advantage of that?
My daughter learned it toward the end of 2nd grade per her request but prefers to use manuscript (print). So, I let her alternate between the two even now that she is in the 6th grade. Why? I am keenly aware that handwriting will not be nearly as crucial in her life, and I don't want to die on this hill. Which reminds me . . . we need to make sure we fit in some keyboarding skills after our children have mastered handwriting!
One thing to note—it's probably best NOT to skip this altogether. Although it's tempting in the digital age, give it at least one year so that your child has the experience. After all, you really can't "print" your signature. Our kids will need to learn that somewhere!
What to Do When Your Child Struggles With Handwriting
So you've tried everything, your child isn't too young, and the handwriting thing is still a nightmare in your homeschool. Don't become discouraged. For some kids, beautiful handwriting is not going to be their skill. I used to tell the parents of my first graders that these kids were just training to be doctors. Ha. It's cute, but the point remains. Good handwriting isn't the most important skill that a child can possess. Focus on learning to be a strong reader and capitalize on your child's natural skills.
It's good to use these resources, and you can even go back and use the magnetic board and wooden pieces at any age. Be patient with your child and yourself. Review often. Give them a chance to do less handwriting practice so they can focus on getting a few great sentences instead of 5–6 sloppy ones. And give them lots of opportunities to complete fine motor tasks like buttoning shirts, picking up tiny objects, etc. This kind of practice goes a long way, especially for boys!
More Christian Homeschool Curriculum
Need guidance on curriculum for other subjects? Read more about our Christian homeschool curriculum tips and favorites.
Free Homeschool Planning Boot Camp
Feeling overwhelmed and need some help? Remember, you are not alone! It's pretty easy to get lost in all the details, but our FREE Homeschool Planning Boot Camp will show you how to put a plan together in just 5 days!
Your turn—> So what about you? Any tips to share for getting those kiddos to have beautiful penmanship?
Through practical tools & Bible-based resources, Kim Sorgius is dedicated to helping your family GROW in faith so you can be Not Consumed by life's struggles. Author of popular kid's devotional Bible studies and practical homeschooling tools, Kim has a master's degree in education and curriculum design coupled with over 2 decades of experience working with kids and teens. Above all, her most treasured job is mother and homeschool teacher of four amazing kiddos.