How I Blog: The Resources That Make it All Work
People often ask how I blog to successfully provide for my family. In this post I share all the tips and resources for how I make money blogging.
I remember very clearly the day I knew God wanted me to start a blog. And I'll be honest, I thought He was nuts.
The storm had been raging in my home for over a year and it seemed that despite any attempts or desires on my part, my husband was going to file for a divorce. This blog thing was the answer to a prayer I had been praying for nearly a year: "Lord, what am I going to do now?"
Although I had a master's degree in teaching, I hadn't worked in 10 years. I had four children under six, one of whom was just a few months old. I couldn't even dream of going back to teaching. It wouldn't even have paid for the childcare. Not to mention, my two school-aged children had only been homeschooled and there was already enough transition in their home. I didn't want to add to the fire.
So, I had to choose to believe that God would indeed provide for us through this thing called a blog.
The funny thing was, I knew almost nothing about blogs. I had followed a few blogs on homeschooling and family life. I even had my own little Blogspot blog where I shared pictures with my granny and the rest of my out-of-town family. But the CREATING a blog thing was foreign. I mean, I felt like I was doing well most days to check email and figure out Facebook.
That was January of 2012. Today this little blog thing is my "real job." It has grown from a little space that only a handful of people visited to a thriving community and online resource store. It took me long enough to accept God's idea, but I'm so glad I did.
How I Make Money Blogging
#4 Affiliate Sales
My LOWEST percentage of income comes from affiliate sales. Of course, this hasn't always been the case. A few years ago, this was my ONLY source of income. It's much easier than developing your own products and it helps someone else out.
Almost every company has an affiliate program, from Amazon to Gymboree. I do use affiliate links for some of the large companies, but more often than not, I use smaller companies. In fact, I tend to make more money as an affiliate for another blogger than I do for a major brand.
Of course, remember every blog is going to be different. I'm sure that a deal blogger will not rank affiliate sales as the lowest source of income! Isn't it great that we are all so different?
If you are looking for large companies to work with, I would suggest Amazon, Shareasale, and CJ affiliate to get you started. Then look around and find bloggers you love and sign up for their affiliate program (I have one here). Basically, if you love a company, dig around and see if they have an affiliate program.
Other favorites: Teach Them Diligently Convention, All About Learning
#3 Ad Networks
I know plenty of bloggers who feed their family entirely with ad networks. I don't. My readers have never been especially fond of those little flickering ads. With Google Adsense, I was making virtually nothing. A few months ago, I signed up with a network that does DFP and I cannot say enough good things about them! With the Blogger Network, my ad revenue increased by 10x as much! If you are finding that your Adsense numbers are pretty low, this might be an option for you, too. Premium networks generally require at least 100,000 pageviews per month, with some requiring at least 750,000 pageviews.
#2 Sponsored Content
I think I've mentioned it enough already, but I'll say it again. Every blogger is different. Sponsored content is a very popular way to earn an income. We love working with companies to help spread the word about their products or services. Our readers learn about awesome things that will help their families and the companies we work with gain new exposure. It's a win-win.
#1 Product Sales
Last, but nowhere near least, is product sales. This category has actually been my top income source for my entire blogging career. In fact, it's about 75% of my income on average. Naturally, the more products I create, the higher that threshold goes. The best part is that I LOVE creating products. I love meeting the needs of families out there who want reliable and wholesome solutions to their everyday issues. And of course, I don't necessarily have to be here on the site when someone comes to purchase from me. That is a beautiful thing.
How to Get Started Blogging
Once I decided to start this blog thing, I went straight to the real deal. From the ground up, I created a self-hosted WordPress site. If this is something you'd like to learn about, I'd suggest Profitable Audience. They have a podcast with a lot of great resources, including a completely free mini-course on how to develop a blog in 5 easy steps. I even invested in their course "Learn How to Build An Audience and Monetize the Traffic". Trust me, you can learn a lot from them!
The Tools That Make It All Happen
Domain Name—>
You can buy a domain name just about anywhere, but I am not a fan of the business practices of some of the options out there. I switched over to Name Cheap a few years ago and haven't looked back. They don't try to sell you junk you don't need. It's a perfect fit for me!
Hosting—>
Hosting is one of those things that will make or break you. When someone shares your pin on Pinterest, you are going to want to make sure your host can handle that traffic. I have used a few options out there that I would strongly steer you away from. My favorite? By far, I prefer Black Chicken Host. Their customer service is outstanding. If you are a newbie or even just someone who prefers not to have to know a lot about the technical side, you will LOVE Black Chicken. Plus, they are very reasonable.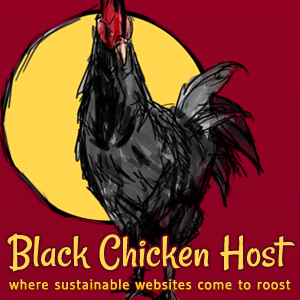 Email Service—>
I send a weekly newsletter to my subscribers. This is vital to how I blog because it's the best way to communicate with my readers. Social media is not reliable in the long run, as it may change.
Over the years, I have tried multiple email providers. Some just didn't have enough features to help me get the job done. Others were too complicated or not designed for bloggers. Convertkit is my top choice. Their customer service is top-notch (noticing a trend?). I also find their interface easier to use than many of their competitors. This email service was built for bloggers and it shows!
I can easily set up autoresponders that are specifically tailored to my readers' behavior, clicks, and opt-in choices. Not only is this great for establishing a relationship with my community, but it also helps raise sales on a consistent basis. The best part is that setting up one of these funnels in Convertkit takes only five minutes or less. That's a win for any business.
Store and Affiliates—>
The most common question I get about how I blog is about the resources I use to run my store. Of course, the store would be nothing without Convertkit to back it up, but we do use a few other tools in the background. The store itself is built on Shopify. It's a really great way to build an online store but it does have a cost. You can try a free 14-day trial to check it out and see if it's right for you.
Our affiliate platform is built on Affiliately. Payouts are simple. Users have a great experience and, best of all, I know everyone is getting paid what they actually earn. (You can partner with us here!)
I know that was a lot of information, but hopefully, it will get you started in the right direction! What are some other blogging tools or tips you have?
Through practical tools & Bible-based resources, Kim Sorgius is dedicated to helping your family GROW in faith so you can be Not Consumed by life's struggles. Author of popular kid's devotional Bible studies and practical homeschooling tools, Kim has a master's degree in education and curriculum design coupled with over 2 decades of experience working with kids and teens. Above all, her most treasured job is mother and homeschool teacher of four amazing kiddos.