I remember very clearly the day I knew God wanted me to start a blog. And I'll be honest. I thought He was nuts.
The storm had been raging in my home for over a year and it seemed that despite any attempts or desires on my part, my husband was going to file for a divorce. This blog thing was the answer to a prayer I had been praying for nearly a year: "Lord, what am I going to do now?"
Although I had a master's degree in teaching, I hadn't worked in 10 years. I had 4 children under 6, one of whom was just a few months old. I couldn't even dream of going back to teaching. It wouldn't even have paid for the childcare. Not to mention, my 2 school-aged children had only been homeschooled and there was already enough transition in their home. I didn't want to add to the fire.
So, I had to choose to believe that God would indeed provide for us through this thing called a blog.
The funny thing was, I knew almost nothing about blogs. I had followed a few blogs on homeschooling and family life. I even had my own little Blogspot blog where I shared pictures with my granny and the rest of my out-of-town family. But the CREATING a blog thing was foreign. I mean, I felt like I was doing well most days to check email and figure out Facebook.
That was January of 2012. Today this little blog thing is my "real job." It has grown from a little space that only a handful of people visit to a thriving community and online resource store. It took me long enough to accept God's idea, but I'm so glad I did.
How to get started blogging
Once I decided to start this blog thing, I went straight to the real deal. From the ground up, I created a self-hosted WordPress site. If this is something you'd like to learn about, I'd suggest Leslie from Become A Blogger. He's got a lot of great resources that are absolutely free and he will teach you how to get started. Plus, he is a retired professor, so his teaching is the best I've found anywhere. I even hired him as my business coach last year. Trust me, you can learn from him!
Another great option for newbies is How to Blog for Profit Without Selling Your Soul. This book is a fantastic resource and Ruth is a great teacher, as well!
The tools that make it all happen
Domain Name—>
You can buy a domain name just about anywhere, but I am not a fan of the business practices of some of the options out there. I switched over to Name Cheap a few years ago and haven't looked back. They don't try to sell you junk you don't need. It's a perfect fit for me!
Hosting—>
Hosting is one of those things that will make or break you. When someone shares your pin on Pinterest, you are going to want to make sure your host can handle that traffic. I have used a few options out there that I would strongly steer you away from. My favorite? By far, I prefer Black Chicken Host. Their customer service is outstanding. If you are a newbie or even just someone who prefers not to have to know a lot about the technical side, you will LOVE Black Chicken. Plus, they are very reasonable.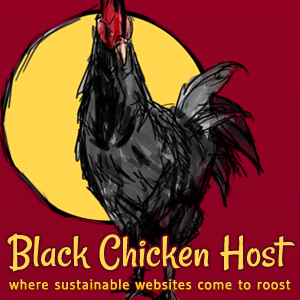 Email Service—>
I send a weekly newsletter to my subscribers. This is vital to my business because it's the best way to communicate with my readers. Social media is not reliable in the long run, as it may change. Over the years I have tried multiple email providers. Some just didn't have enough features to help me get the job done. Others were too complicated or not designed for bloggers. Convertkit is my top choice. Their customer service is top notch (noticing a trend?). I also find their interface easier to use than many of their competitors. This email service was built for bloggers and it shows!
I can easily set up autoresponders that are specifically tailored to my readers' behavior, clicks, and optin choicess. Not only is this great for establishing a relationship with my community, it also helps raise sales on a consistent basis. The best part is that setting up one of these funnels in Convertkit takes only 5 minutes or less. That's a win for any business.
Leadpages—>
If I had to pick a tool that was most valuable to my business, it would be a toss up between Convertkit (mentioned above) and Leadpages. Simply put, Leadpages allows me to create optin boxes so my readers can subscribe to my newsletter. I also set up sales pages, thank you pages, and much more. I seriously couldn't do business without this amazing service.
Store and Affiliates—>
The most common question I get is about the resources I use to run my store. Of course, the store would be nothing without Convertkit and Leadpages to back it up, but we do use a few other tools in the background. The store itself is built on Woo Commerce. It's a totally free plugin, but does require some extras here and there to make it run. We have it installed on a theme that is specifically designed as an ecommerce store for Woo commerce platform. That makes all the difference in the way it looks.
Our affiliate platform is built on iDev Affiliates. This is the most accurate and consistent program out there. It's not the cheapest, but you get what you pay for, right? I have been very thankful that we switched. Payouts are simple. Users have a better experience and best of all, I know everyone is getting paid what they actually earn.