This is my boy. Yep. He's broken two bones and been in the ER more than most people in a lifetime.
His feet are rarely on the floor. He can't sit still. He is interested in everything…but never for very long.
He is likely to fall, likely to bust his head open just by walking into another kid and guaranteed to jump off a flight of stairs.
When he gives you a hug…it hurts.
If he sings a song…it's 12 decibels above the tolerable level.
Some say he is all boy. They are right, but it's beyond that. He's the kind of boy that gets a parent-teacher conference in the first month of school that ends up with a doctor's office and a bottle of Ritalin. He's the kid that would have been labeled "ADHD" before he learned half of the letters of the alphabet in a public school.
After many years of sitting on the other side of that parent-teacher conference table, I can tell you that I am so thrilled that we have the privilege of homeschooling. My sweet boy can be all boy and I can choose whether or not I want to medicate him. I even get to choose whether or not I even want to label him.
I choose not. I love that he can be free to learn in the way that he needs. Of course, this choice brings serious challenges to our school day. It forces me to think outside of the typical "school" box and allow him the freedom to learn while standing on his head. (If you have a kid like this…you know that I am seriously not kidding about that.)
I'm guessing that you landed on this post because you too have a child with 2 scars on his forehead from completely separate events. Be encouraged, my friend. We can truly succeed in teaching this type of child to read. (By the way…contrary to popular belief, this child is not always a boy.)
My best advice won't be new to you. Surely these are things you have heard before, but they bear repeating.
Don't start formal education too early…
This really can wait if you are homeschooling. Allow them to be children. What is too early? Opinions vary, but I would challenge you to think hard about this one. Rather than banging your head on the wall everyday, allow your distractible child to wait until he/she is 6 or 7 before requiring a "formal" school time. Some would even advocate later.
Allow freedom in position…
There is absolutely NO research out there that says that children learn best when sitting in a desk. As a homeschooler, you have the freedom to let him/her stand at the table, or learn math facts while doing hopscotch, or stand on his head while he recites a poem. Really, it will be ok!
Keep it short…
Formal lessons should be short and broken up. Teach him/her for 10-15 minutes and then go on a walk. Come back and teach for another 10-15 minutes then do the dishes together. There is no need to have a solid block of time, nor is there any purpose in sitting a child down for hours and hours of formal instruction. Remember, the purpose of formal instruction is simply to teach a concept. If the child is ready, this should take only a few minutes. Then practice can occur. But don't forget to keep the practice short, as well.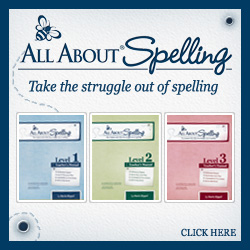 So how does All About Spelling fit into this?
It fits all 3 of my above requirements….and more. I LOVE this curriculum. I love that it is grounded in solid research of the way that children learn to read, as well as, the foundation of the english language.
I LOVE that All About Spelling assumes that your child needs short spurts of information, but makes no apologizes for high expectations. Children are expected to learn the way the English language works without a bunch of excuses like "these words just don't follow the rules" or "we don't know why those letters sound that way." But it is presented in such a way that anyone can manage.
I LOVE that the lessons are hands-on. He literally touches everything as he is learning…and it's expected.
Don't miss this crucial final point—>It's simple and easy for a busy mom of 4 kids to teach.
Be encouraged, mama. You are blessed with the opportunity to meet your child's needs personally through homeschooling. Some days may end in weariness, but in the end, the sacrifice will be worth it. Your child WILL read!
Ready to try All About Spelling or All About Reading products? Click below for your FREEBIE!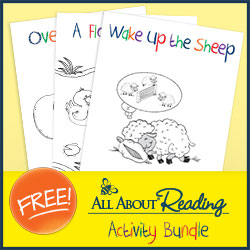 A few thoughts about how a SPELLING program teaches a child how to read:
I've used All About Spelling for quite some time now and I'm a huge fan for the way it teaches children to have a solid relationship with words. This relationship LEADS to strong reading and writing skills. Should your child need more specific focus on reading, I would recommend that you consider All About Reading, as well. The website goes more into detail about their recommended sequence.